Client
Tabasco®
Project
McIlhenny Co. Tabasco®
Industry
B2C
Consumer Packaged Goods
Services
Commerce Enablement
Content and Creative
Customer Experience (Cx)
Background
TABASCO® brand products are made by McIlhenny Company, founded by Edmund McIlhenny in 1868 on Avery Island, Louisiana. The recipe for TABASCO® Original Red Pepper Sauce has since been passed down for generations and has become an iconic food staple.
Brief
Tabasco was seeking a build with Magento 2 software to streamline order information and communicate more effectively with its Oracle software. The brand also sought to expand brand awareness and reach new customers.
Goals
Drive users to a fresh storefront where they can explore the entire product catalog, all while learning new ways to use their favorite hot sauce. Create a flexible and modern eCommerce solution that is easy to maintain.
Challenge
While Tabasco has become a shelf staple in pantries, most consumers grab a bottle from their local grocer without realizing they can explore the creative sauces, unique gifts, and branded Tabasco gear on its online store.
Building Foundations
Sleek and simple modules allow for easy mixing and matching to create custom templates.
Spicing Things Up
Filtering and sorting products can make wayfinding easier for users. Breaking down a nuanced product offering by Scoville units, bottle sizes, and sauces allows users to explore and refine to meet their needs.
Creating the Experience
BORN relied on best practices, user research, and visual design to create a solid eCommerce experience that will — much like Tabasco — stand the test of time.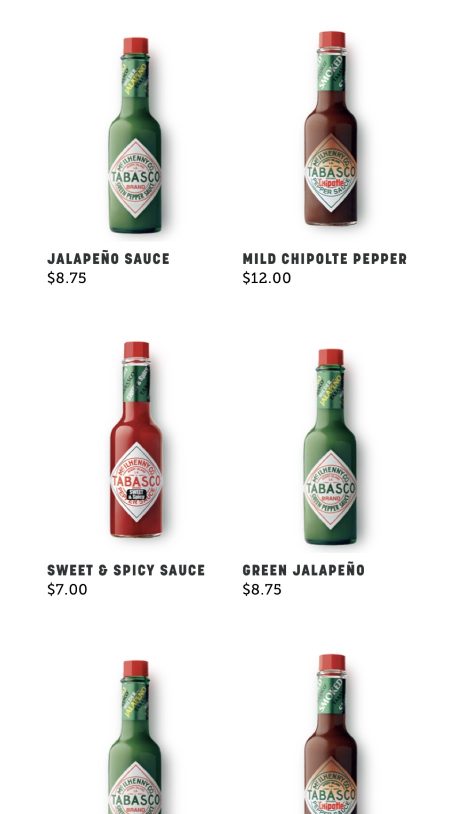 The Results
Our focus was two-fold. We re-platformed Tabasco and set up a modular design system based on minimal templates. We then created an experience that allowed users to purchase Tabasco goods directly from the source, cutting out the middle man and maximizing ROI.